Choosing a Clutch for your MK7 Golf
Whilst the MK7 Golf platform is a highly tuneable powerhouse, unfortunately for those with a third pedal, the clutch is by far the weakest link. The dreaded clutch slip has been widely seen in vehicles with only 'Stage 1' or equivalent power additions, which means the factory clutch is truely only designed for the standard output. High torque tunes are especially notorious for inducing slip.
Whilst I personally avoided launching my vehicle, pushing 500 Nm of torque using a Burger Motorsports JB4 was more than enough to eventually cause regular clutch slip. It was clearly time for an upgrade, but with a considerable investment ahead, one needs to choose wisely to ensure the clutch meets their own personal needs.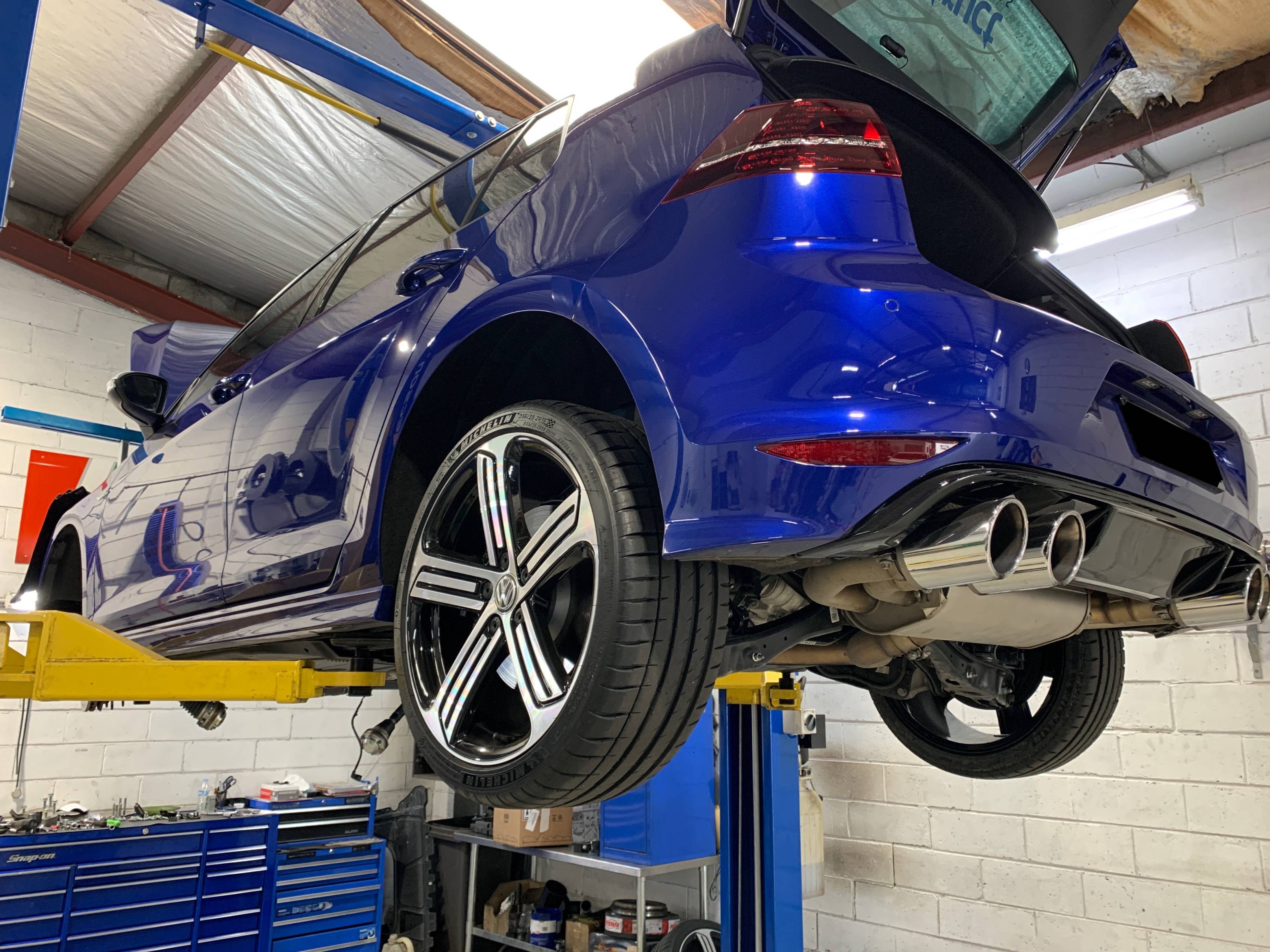 500 Nm of Torque ATW was just too much!
The first topic for any clutch upgrade is the decision between a (Factory) Dual Mass Flywheel (DMF) or Single Mass Flywheel (SMF). There are benefits and weaknesses to either option, and your vehicle usage will be a main factor to this decision. Do you frequently race your vehicle? Is it simply a daily driver? Stage 1, 2 or 3? Are you after minimal impacts to Noise, Vibration, Harshness (NVH)? Where's the balance?
Single Mass Flywheel (SMF)
A SMF is often chosen by those who give their drivetrain a workout, through track days or frequent launching. Whilst certainly not a fixed rule, Single Mass Flywheels can typically sustain high torque loads and thanks to no moving parts in the flywheel itself, they're less prone to being damaged as a result. This option does however bring variable amounts of NVH depending on the manufacturer's design and engineering of the clutch kit. Some would refer to this noise as sounding similar to a diesel vehicle at idle. Over 80% of MK7 clutches on the market use a SMF, and this gives plenty of options to the customer with various friction materials and clamping forces on offer. Southbend, BFI and SACHS are all manufacturers of SMF options, just to name a few.
Dual Mass Flywheel (DMF)
Clutch kits destined for use on Dual Mass Flywheels will typically re-use the factory flywheel if it is still in good condition without obvious heat strain or damage to the rotating mass portion. If NVH is an issue for you, DMF is definitely the choice, with very minimal to zero change in NVH. They don't disappoint either, with 810+Nm options available from SACHS, however sometimes you wonder how much abuse the flywheel can tolerate as the DMF has moving parts, unlike SMF. There are far fewer DMF options on the market, with SACHS being the primary candidate here (After all, the OEM clutch assembly is manufactured by SACHS). There are also hybrid DIY options such as the 'TTRS Kit'.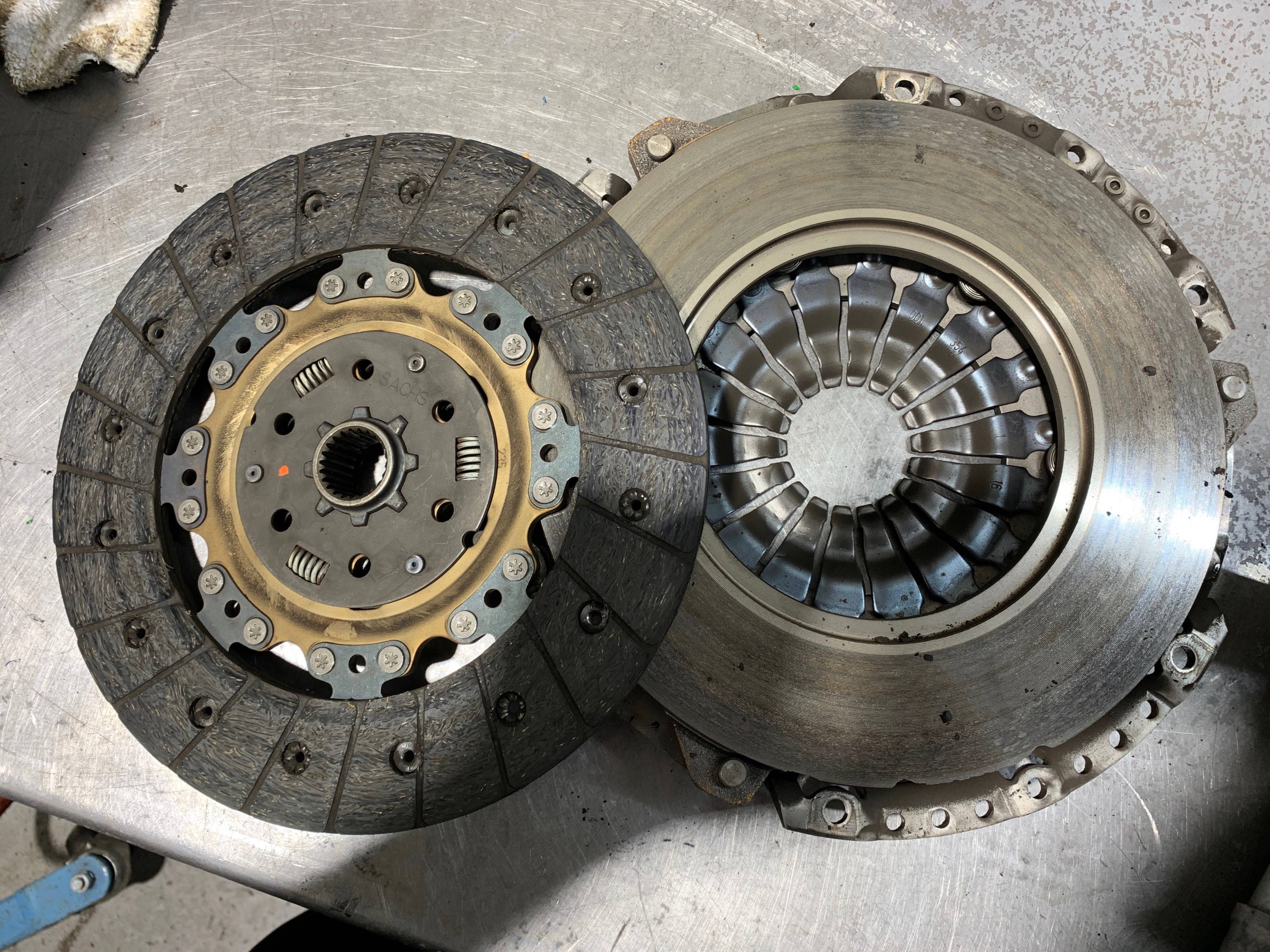 The OEM clutch, made by SACHS.
Once you have chosen between SMF and DMF, the options of different friction materials and clamping pressure will arise. Combined, these will determine the rated torque load the clutch kit can sustain, and your requirements will very depending on your engine output and proposed usage. Considering we chose the DMF style for the AutoInstruct Golf R we're going to look at the two options available from the SACHS Performance division.
SACHS Performance DMF "Street" Clutch Kit – 550+Nm
This kit is really designed for the performance enthusiast running any form of tuned vehicle on the street as a daily. Featuring a great torque rating of 550+Nm, this organic setup has minimal shudder at low rpm and gives much improved pedal firmness over stock. This is the kit we chose for our MK7 Golf R.
Sachs Performance DMF "Racing" Clutch kit – 810+Nm
Featuring the same pressure plate as the above street kit, the racing package swaps over to a 4-Puck ceramic clutch disc, which can take a huge level of transmittable torque which would outlast any tuned setup, even those with upgraded turbos. It also features better thermal capacity over organic, and has a very aggressive take off. You will really need to raise the revs to reduce shudder when taking off, however it will still be very present. I would only recommend this clutch to serious performance drivers who frequent the race track.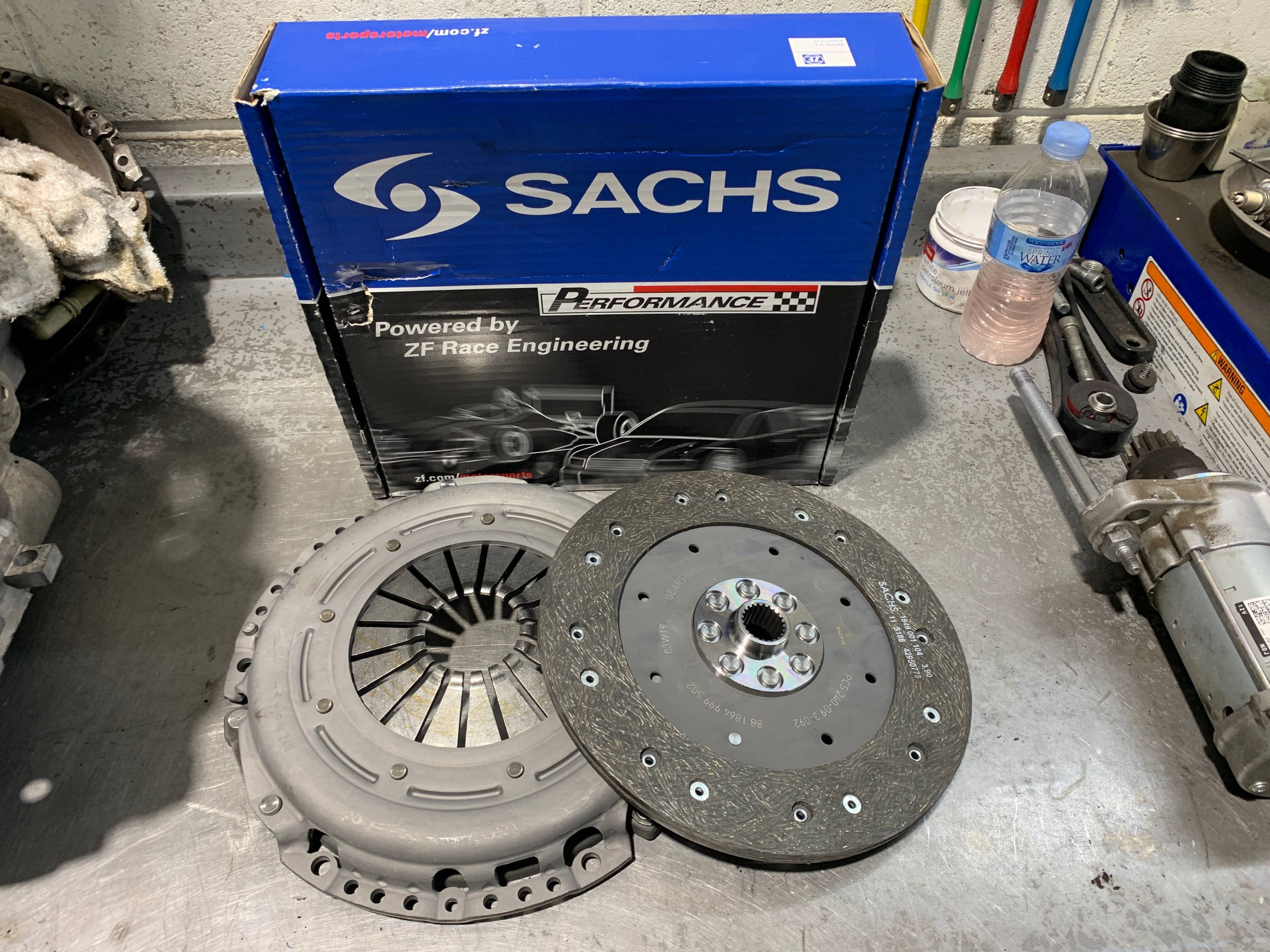 SACHS Clutch Kit Ready for Installation
As mentioned earlier, we opted for the "Street" 550+Nm kit as our vehicle is a humble daily, and we wanted to maintain a level of comfort and drivability. In the first picture you can see the OEM clutch and pressure plate removed from the vehicle with minimal sign of wear and no heat spots to be found. Unfortunately however it could not keep up with the 500 Nm ATW torque we were throwing at it thanks to our Burger Motorsports JB4.
Below is our vehicle with the flywheel removed as we wanted to inspect the rear main seal for any leaks, another common occurrence on the EA888.3. Whilst ours was thankfully bone dry, we do have iABED billet rear main seals available for those that want to repair or upgrade their seal.
The new clutch went in seamlessly, and it was now time for the first drive.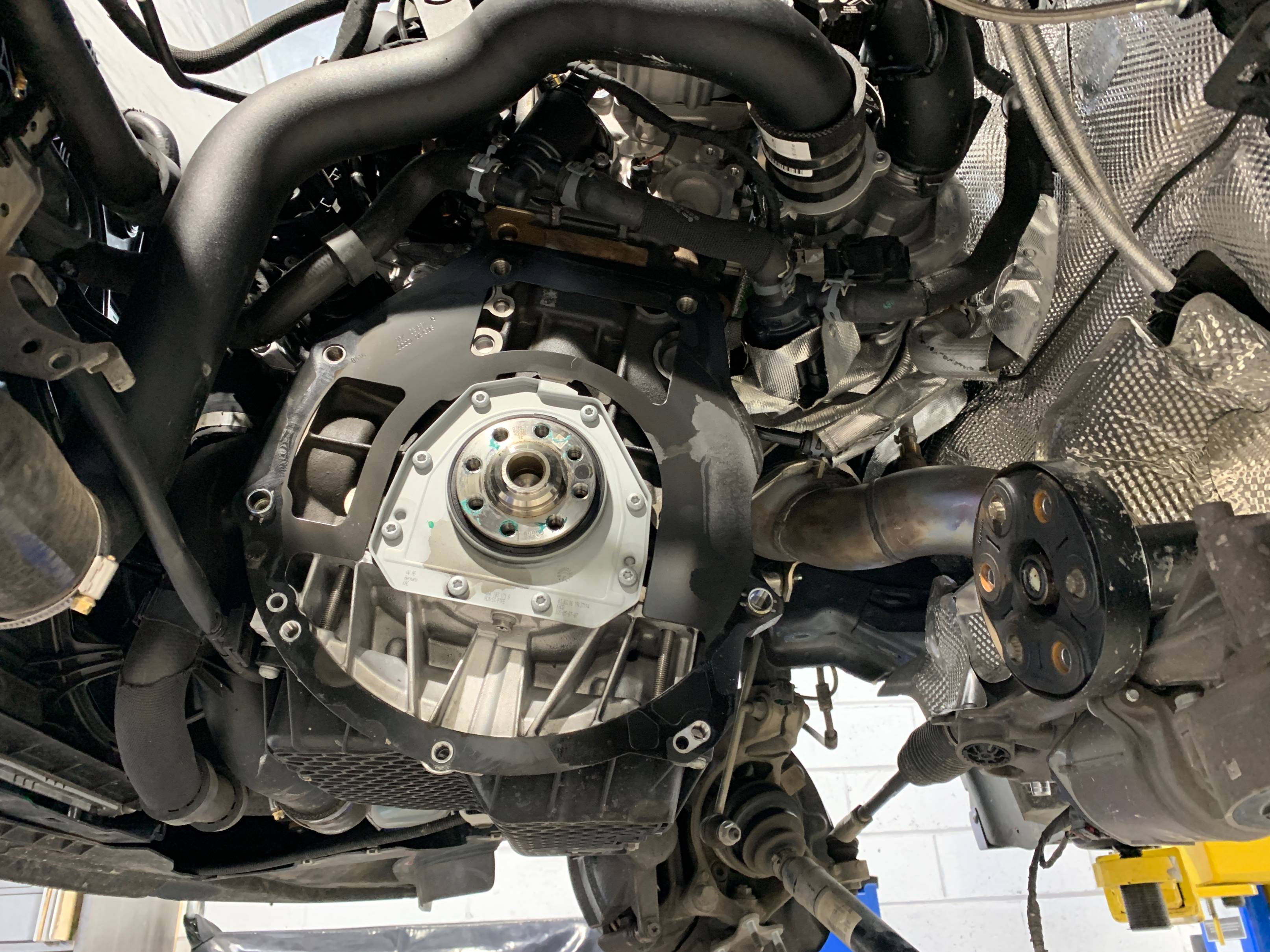 Inspecting the Rear Main Seal
Initially after installation I could barely drive the car properly as the clutch pedal feel was so much firmer, approximately double over stock at best guess. Combined with 'new clutch shudder' it was a little difficult to drive, but after a few days I had adjusted and the heavier pedal feels great. Most of the shudder has also gone, however slow vehicle maneuvers under 1000rpm causes some minor shudder, but this doesn't phase me. You will also encounter a smellier clutch if you ride it on hills and so forth due to the organic compound, but nothing recirculating climate control can't fix! Final verdict? This clutch is awesome.
If you're interested in a SACHS solution for your vehicle, we have a wide range available here.
Lastly, special thanks to Volkstech in Melbourne, Australia who offered to assist with this installation.