GC8 Impreza WRX – The Sun Rises Again
Born in October 1998, our Subaru Impreza WRX will soon celebrate its 20th Birthday, and in preparation for this milestone we've been stockpiling new parts to bring some life back into this awesome vehicle. Years of exposure to the elements, from both inside an out, have led to typical wear and tear. Fortunately there's huge stockpiles of OEM parts waiting to be purchased, and we jumped on the opportunity.
Over the next few months we'll be installing all these components, some of which are forming part of a major service, just prior to 150,000kms. We're also using this opportunity to revamp the brake system for full reliability.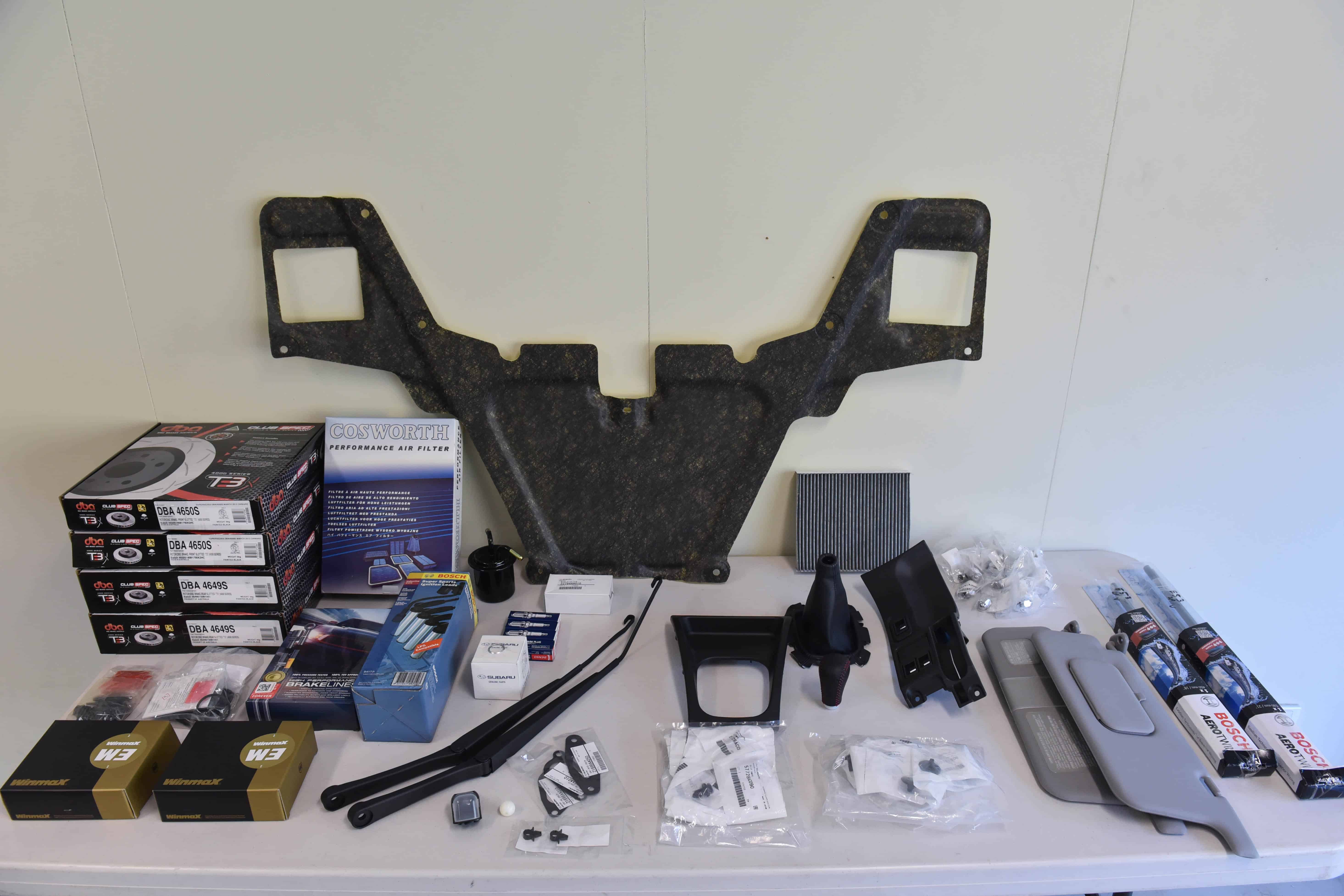 Parts, parts and more parts!
In the above picture we have a huge number of parts to install, as follows:
Interior:
OEM Boot Lamp
OEM STI Shift Knob
OEM Shift Boot
OEM Gear Surround
OEM Handbrake Surround
OEM Sun Visors
Sakura Cabin Filter
Exterior:
OEM Wheel Nut Set
OEM Wiper Arms
OEM Plugs / Clips
Bosch Aerotwin Wiper Blades
Engine:
OEM Oil Filter
OEM MAF Sensor
OEM Hood Liner + Clips
OEM Intercooler Gasket Set
Denso Spark Plugs
Bosch Spark Plug Leads
Sakura Fuel Filter
Cosworth Dry Air Filter
Braking:
DBA T3 Slotted Set
Winmax W3 Pad Set
OEM Brake Rebuild Rear
OEM Brake Rebuild Kit Front
Goodridge Braided Brake Lines
Special thanks to the team at Tuspeed for supplying a variety of these parts. Keep an eye on our blog and tutorials to track the progress of our GC8!
WRX Roadmap:
Bye Bye Brant
The Deep Clean
Rattle, Rattle, Rattle
Parts Delivery!
The MY99 MAF Sensor
Let's Talk Fluids
Theft Prevention
Go Fast. Stop Faster.
Body Restoration
To Be Continued…