The GC8 Impreza WRX Mechanical Inspection
Today in our GC8 Impreza Blog we take a look at the underside of our WRX for the first time since being purchased. Based on our in-depth review of the service history, we had some suspicions of known issues as identified by the last mechanic. We have also been provided with a list of common problems with the GC8 series, all of which we're looking to inspect. Fortunately for us, our recently installed hoist has made easy work of this activity, plus we can capture excellent photos and tutorials for our readers. Here's what we're looking for:
Common GC8 Mechanical / Underbody Issues:
Cracked / Leaking CV Boots
Leaking Rocker Cover Gaskets
Leaking Hydraulic Bushings
Overzealous Rear Diff Breather
Generic Mechanical / Underbody Issues
Rust
Dry / Cracked Suspension Bushings
Damage & Scrapes
Exhaust Leaks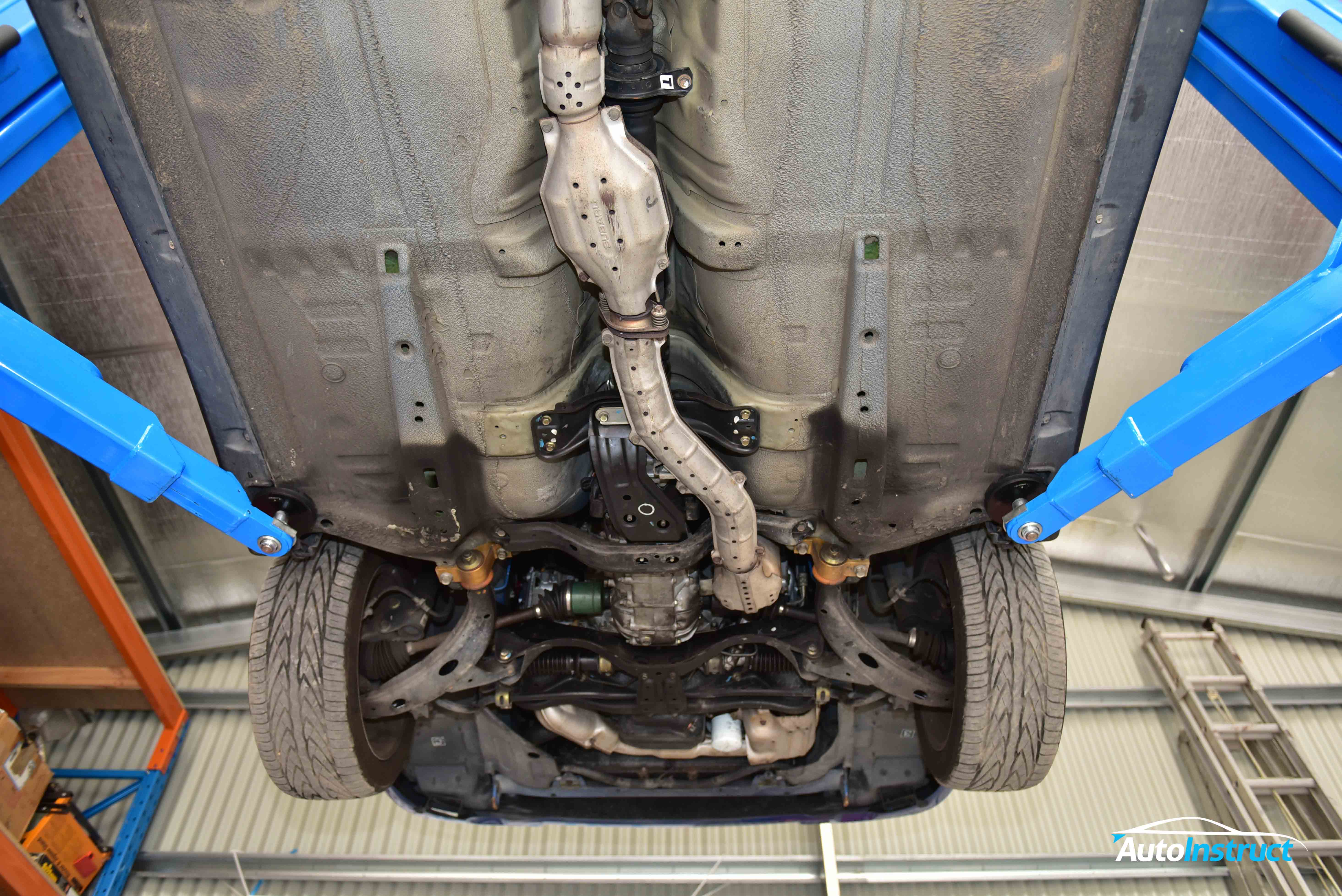 The GC8 Subaru Impreza WRX Underbody
The Rear
Being an AWD vehicle, we have both the front and rear drive systems to inspect. On our vehicle the first thing we noticed was some oil dampness around the rear differential, seeming to originate from the top rather than any particular casing or plug seal. Fortunately we believe this is simply the diff breather venting a small amount of oil, and over time this simply builds up, forming a damp layer on the diff casing. A quick wipe with degreaser and its clean – Something we can now monitor.
Everything else appeared to be in good working order, however we envision that a few bushings and CV boots will give up soon, or should be replaced as proactive maintenance. The rear brake pads also seem to be running low, and will be up for replacement soon.
To Fix: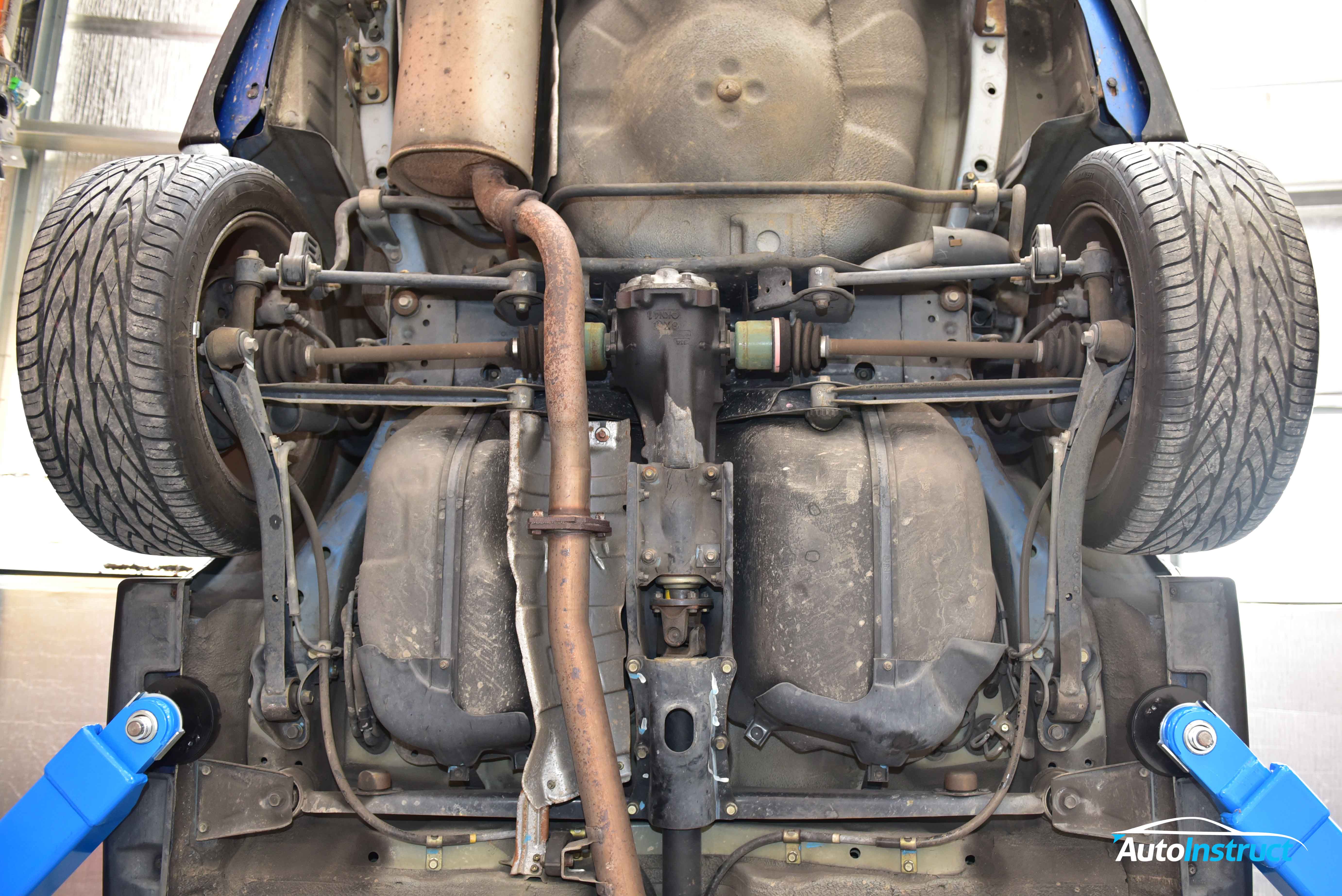 The Rear Underbody – Diff, Axles, Brakes and Tyres Checked
The Front
Moving to the front of the vehicle, we instantly noticed a few issues and previously replaced components. As noted in the service history, a Whiteline Anti-Lift Kit has been installed, however due to the unmodified nature of this vehicle we believe these may have been a replacement to the OEM hydraulic bushings which began to leak – Aftermarket components can be much cheaper than OEM items, and more reliable too. Secondly we noticed grease weeping on outer right-hand driveshaft, as pictured below. More concerning was the oil dampness present on the gearbox end of the same driveshaft. It looks like we have some work ahead of us…
Further inspection around the engine showed nothing of concern, with typical driveway scrapes present on the front bumper and tow points. A few tired suspension bushings may be contributing to the rough suspension, however they're passable for the moment. In addition to the rear, the front brake pads are out of life and have developed a squeal to suit. We're planning to completely overhaul the braking system, including full calliper rebuilds and refurbishment – Stay tuned!
To Fix:
Outer RH CV Boot
RH Gearbox Driveshaft Seal
Front Brake Pads + Rotors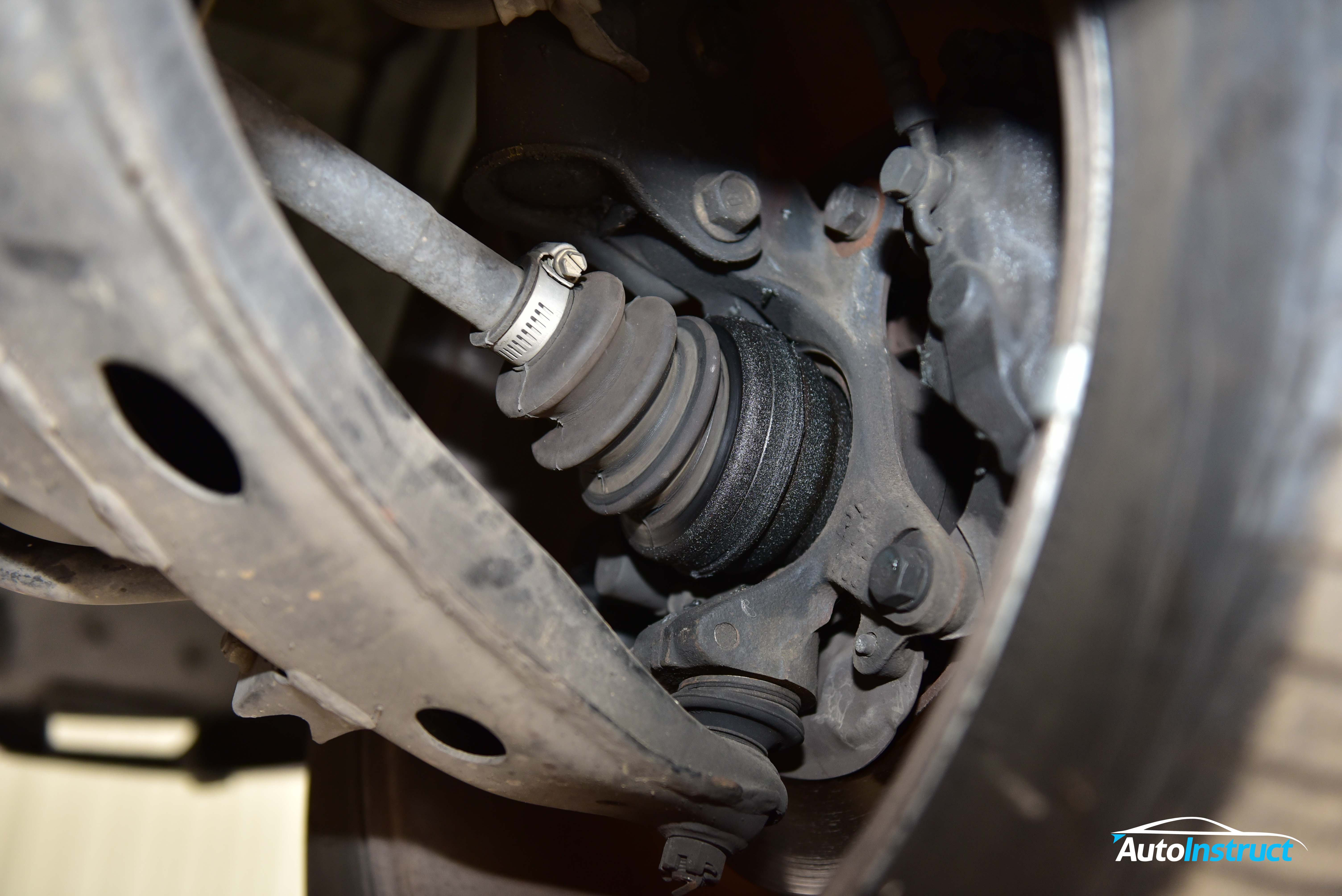 The Leaking Outer CV Boot (Right Hand Side)
Drivability:
From an overall drive perspective, the WRX feels truly great in terms of handling and performance. Sharp steering, great on-boost pull and an awesome rumble. After getting to know the vehicle more, we knew this could have been better, and now it's time to investigate the following issues, and a path to resolve them.
Braking performance is weak, and lacks initial bite
Steering off centre and randomly pulling towards the left and right (Likely in need of a good 4-Wheel alignment and nothing more!)
Tyres need to be replaced and upgraded
Soon a full vehicle service will be in order, allowing us to re-baseline the service history using high quality products and oils. Stay tuned for the tutorials!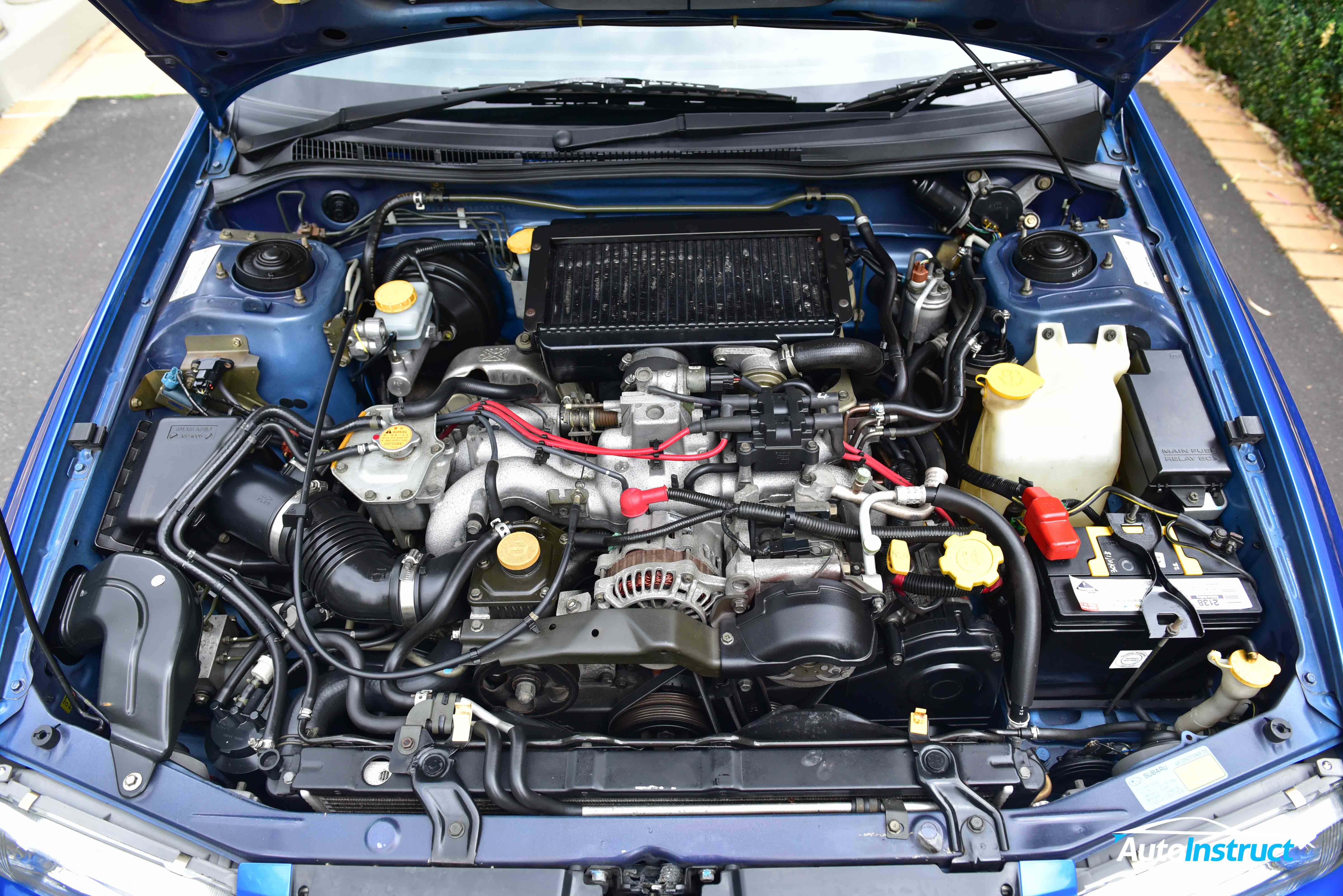 Our Immaculate WRX Engine Bay, Featuring the EJ205 Engine
Over the coming months you can follow the progress of our WRX through the AutoInstruct blog, as we find new things to fix, replace, modify and share. We are really excited to keep this vehicle looking visually standard, preserving its original styling and characteristics. The vehicle is simply too good to be ruined.
WRX Roadmap:
Underbody / Mechanical Inspection
Bye Bye Brant
The Deep Clean
Rattle, Rattle, Rattle
Parts Delivery!
The MY99 MAF Sensor
Let's Talk Fluids
Theft Prevention
Go Fast. Stop Faster.
Body Restoration
To Be Continued…