034Motorsport Street Density Motor Mount Pair - VW Mk5 / Mk6 Golf & Audi 8J / 8P 2.0T FSI
The 034 Motorsport Street Density Motor Mount Kit reduces engine and transmission movement under load improving power delivery and shift feel.
SKU
034-509-5003-SD
Category
Volkswagen / Audi / Skoda
Tags
034, 034-509-5003-sd, 034motorsport, 8j, 8p, a3, aluminium, audi, cam, density, ea888, golf, high, jetta, kit, mk5, motor, motorsport, mount, pair, street, tt, volkswagen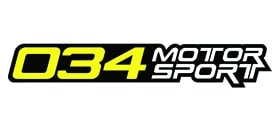 034Motorsport Street Density Motor Mount Pair – VW Mk5 / Mk6 Golf & Audi 8J / 8P 2.0T FSI
034Motorsport's Density Line Mounts are the new standard in comfort and performance. Our mounts are redesigned with performance in mind, and manufactured from high-durometer rubber for increased performance and durability, without sacrificing comfort. Density Line Mounts are void-free and fluid-free, eliminating the slop associated with the factory mounts.
The Street Density Engine Mount Pair is manufactured from 60 durometer rubber, which is approximately 35% stiffer than stock. Since the mounts are also void-free and solid-filled, the resulting mount is approximately 60% stiffer than stock. The cast aluminium mount bodies have also been redesigned to cope with the added stress of spirited driving.
The result is greatly reduced drivetrain slop, crisper shifting, and minimal wheel hop, without any significant increase in noise, vibration, or harshness (NVH) inside of the cabin. These mounts are a completely re-engineered performance solution, not just inserts for use with the factory mounts.
Features
Manufactured from 60 Durometer (Street Density) or  80 Durometer (Track Density) Rubber with Void-Free Construction
Reduced Drivetrain Slop
Decreased Engine Movement Under Load
More Direct Power Transfer
Improved Shifting Feel
Complete Drop-In Replacement of Factory Engine/Transmission Mounts
Sold in Pairs (One Engine Mount  & One Transmission Mount)
Fitment
2006 – 2013 Audi A3 (8P) 2.0T FSI / 2.0 TSI
2006 – 2013 Audi TT / TTS (8J) 2.0T FSI / 2.0 TSI
2005 – 2009 Volkswagen Eos / GLI / GTI / Jetta (MkV) 2.0T FSI / 2.0 TSI
2010 – 2013 Volkswagen Eos / Golf / GTI / R (MkVI) 2.0 TSI
2014 – 2017 Volkswagen Jetta / GLI (MkVI) 1.8T & 2.0T EA888 Gen 3
2005 – 2010 Volkswagen Passat (B6) 2.0T FSI / 2.0 TSI Non-Tiptronic Transmission
Vehicle Fitment
This vehicle fitment list has been provided as a guideline only. Please check the product description for exact vehicle compatibility.
| Make | Model | Generation | Variation |
| --- | --- | --- | --- |
| Make | Model | Generation | Variation |
| Audi | A3 | 8P | |
| Audi | S3 | 8P | |
| Audi | S4 | B8 | |
| Audi | TT | 8J | |
| Audi | TTS | 8J | |
| Skoda | Octavia | MK2 | Standard |
| Volkswagen | Golf | MK5 - MK6 | GTI |
| Volkswagen | Golf | MK5 - MK6 | Standard |
| Volkswagen | Golf | MK6 | R |