034Motorsport Adjustable Rear Sway Bar – Audi 8V RS3 & 8S TTRS
034Motorsport Adjustable Rear Sway Bar – Audi 8V RS3 & 8S TTRS
034Motorsport's Adjustable MQB Solid Rear Sway Bar Upgrade for the 8V Audi RS3 & 8S Audi TTRS is engineered to improve the handling dynamics and balance of the ultimate iterations of these MQB-platform vehicles.
SKU
034-402-1015
Category
Volkswagen / Audi / Skoda
Tags
034, 034motorsport, 8s, 8v, adjustable, audi, bar, drivetrain, motorsport, rear, rs3, solid, sway, swaybar, ttrs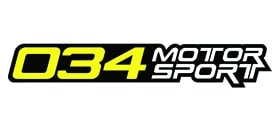 034Motorsport Adjustable Rear Sway Bar Kit – Audi 8V RS3 & 8S TTRS
034Motorsport is proud to offer the ultimate rear sway bar upgrade for the Audi 8V RS3 and Audi 8P TTRS! The 034Motorsport Adjustable Solid Rear Sway Bar is made from a single piece of high-quality, 0.938 inch thick spring steel for maximum rigidity, and is designed to combat understeer while reducing body roll under hard cornering.
This product was tested thoroughly on the street and track on 034Motorsport's 2018 Audi RS3 and 2018 Audi TTRS Development Vehicles, and multiple enthusiast-owned Audi MQB vehicles before release. The 034Motorsport Adjustable Solid Rear Sway Bar substantially reduces understeer and body roll on 8V Audi RS3 and 8S Audi TTRS vehicles without compromising comfort on the street.
In addition, the 034Motorsport MQB Rear Sway Bar is engineered to be used effectively with the stock front sway bar. No upgrade in the front is required. The addition of a stiffer front bar can positively affect turn-in feel, but ultimately worsens the platform's tendency to understeer. With the stock front sway bar and upgraded 034Motorsport Solid Rear Sway Bar, body roll is virtually eliminated while turn in and off throttle oversteer are greatly improved.
Features:
Manufactured from high-quality, solid, 0.938" spring steel
Two positions for adjustability based on driver preference
Attractive black powdercoat for protection from the elements
Beautiful billet CNC brackets with clear anodizing for protection from the elements
Integrated Zerk fittings in the CNC brackets for easy greasing maintenance
Locating collars to prevent the sway bar from walking side to side
What's Included:
034Motorsport 8V Audi RS3 and Audi TTRS Adjustable Solid Rear Sway Bar
Polyurethane Sway Bar Bushings
Billet Aluminum Sway Bar Brackets with Integrated Zerk Fittings
Sway Bar Bracket Installation Hardware Kit
Sway Bar Rate Data:
034Motorsport (Soft) – 81% Rate increase vs. factory Audi RS3/TTRS (22mm) hollow rear sway bar
034Motorsport (Stiff) – 102% Rate increase vs. factory Audi RS3/TTRS (22mm) hollow rear sway bar
Vehicle Fitment
This vehicle fitment list has been provided as a guideline only. Please check the product description for exact vehicle compatibility.
| Make | Model | Generation |
| --- | --- | --- |
| Make | Model | Generation |
| Audi | RS3 | 8V |
| Audi | RS3 | 8V |
| Audi | TTRS | 8S |