034Motorsport Street Density Dogbone Mount Pair – VW MK7 Golf/GTI/R, 8V AUDI A3/S3/RS3 (MQB)
034Motorsport Street Density Dogbone Mount Pair – VW MK7 Golf/GTI/R, 8V AUDI A3/S3/RS3 (MQB)
The 034 Motorsport Street Density Dogbone Mount Kit decreases engine movement under load improving shift feel and power delivery.
SKU
034-509-1034
Category
Volkswagen / Audi / Skoda
Tags
034motorsport, 8s, 8v, aluminium, audi, bone, cam, density, dog, dogbone, drivetrain, ea888, golf, high, jetta, kit, mk7, motor, motorsport, mount, pair, street, volkswagen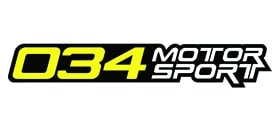 034Motorsport's Street Density Dogbone Mount pair for MkVII Volkswagen and 8V/8S Audi models sets the new standard in performance mount solutions. Designed with performance in mind and manufactured from high-durometer rubber for increased performance and durability, the Street Density Dogbone Mount Pair is a complete performance replacement for the factory rubber dogbone mounts.
The Density Line Dogbone Mount Pair is manufactured from 65 durometer rubber – as opposed to the factory part's 55 durometer – and features a steel thread insert in the upper mount for increased resistance to stripping threads. This kit includes a new OEM dogbone mount bolt.
This upgrade is compatible with our full line of MQB drivetrain upgrades, and offers decreased drivetrain movement, crisper shifting, and reduced wheel hop, with minimal noticeable increase in noise, vibration, or harshness (NVH) inside of the cabin. (Please Note: NVH changes may be more noticeable in vehicles equipped with DSG or Tiptronic transmissions, and/or if your factory engine/transmission mounts are worn or failed. We recommend giving the mounts at least 250 miles to break-in after installation.)
High-Durometer Rubber vs. Polyurethane:
Density Line Mounts are manufactured from high-durometer rubber instead of polyurethane for a number of reasons. While vulcanized rubber mounts are more expensive to prototype due to increased complexity of manufacturing and high initial tooling costs, rubber is inherently better than polyurethane as a damping medium for mounts and bushings.
Rubber is able to deal with stress under both tension and compression, while polyurethane mounts rely on the damping medium to be effective only under compression. Rubber is also excellent in shear, where polyurethane is ineffective, making it ideal for control arm bushings that apply a shear force to the bushing during articulation.
Rubber does not pack and wear like polyurethane does, which ultimately results in a long-lasting part with consistent performance and comfort.
Features:
Complete Drop-In Replacement of Factory Mounts
Compatible with 034Motorsport's Version 1 MQB Lower Dogbone Mount Insert, Upper Insert, and Spherical Dogbone
Manufactured from 65 Durometer Rubber
Upgraded Steel Thread Insert in Upper Mount Replacing Factory Aluminum Which is Prone to Stripping
Reduced Drivetrain Movement
Decreased Engine Movement Under Load
More Direct Power Transfer
Improved Shifting Feel
Sold as a Pair
What Is Included:
Lower MQB Dogbone Mount Puck with Upgraded 65 Durometer Rubber
Upper MQB Dogbone Mount Puck with Upgraded 65 Durometer Rubber and Upgraded Steel Threads to Prevent Stripping
VAG-N91201001 OEM MQB Dogbone Mount Puck Bolt
Installation:
Installation of these mounts requires removal of the front subrame and the use of a press to remove and replace the dogbone mounts. For this reason, we recommend taking your vehicle to a reputable Audi/Volkswagen specialist for installation.
Vehicle Fitment
This vehicle fitment list has been provided as a guideline only. Please check the product description for exact vehicle compatibility.
| Make | Model | Generation |
| --- | --- | --- |
| Make | Model | Generation |
| Audi | A3 | 8V |
| Audi | A3 | 8V |
| Audi | A3 | 8V |
| Audi | RS3 | 8V |
| Audi | RS3 | 8V |
| Audi | S3 | 8V |
| Audi | TT | 8S |
| Audi | TTRS | 8S |
| Audi | TTS | 8S |
| Skoda | Octavia | MK3 |
| Skoda | Octavia | MK3 |
| Skoda | Superb | MK3 |
| Skoda | Superb | MK3 |
| Volkswagen | Golf | MK7 |
| Volkswagen | Golf | MK7 |
| Volkswagen | Golf | MK7 |
| Volkswagen | Golf | MK7 |