Forge Motorsport Intercooler – Toyota Yaris GR
Forge Motorsport Intercooler – Toyota Yaris GR
FMINT25 is a performance intercooler for the Toyota Yaris GR, produced, designed, and tested at our headquarters in Gloucester UK.
Forge Motorsport Intercooler – Toyota Yaris GR
FMINT25 is a performance intercooler for the Toyota Yaris GR, produced, designed, and tested at our headquarters in Gloucester UK. Throughout the development process we have strived to improve the efficiency and performance of the Yaris GR's engine. Our project brief was to develop an intercooler utilising all of the available space available in the original position of the OEM intercooler, and to ensure the inlet air temperature is reduced, without any negative effects on the boost pressure or engine and transmission cooling.

Using a combination of scanning software and traditional measuring methods, the design was created. This was then fine tuned by our computational fluid dynamics (CFD) team, and the end tanks were initially created by 3D printers. We then alloy cast our first prototypes from our 3D prints using a sand casting technique and started the testing procedure on several types of intercooler cores.
The first iteration fitted the vehicle perfectly, however, our technicians and engineers felt the inlet and outlet should be enlarged along with providing the end user with the necessary boost pipes to ensure flow was maximized on the Toyota`s GR 3 cylinder engine.
Before getting to work on the dyno, we spec'd three different type of cores; one of these being bar and plate and two being a tube and fin construction – with all three cores having different internal and external fin pitches and configurations. We then welded the test parts ready for testing along with fabricating an internal baffle to the inlet (hot side) of the end tank. This is to ensure, from our CFD research, that the total volume of the core internal is utilised for optimum performance.

Compared to the OEM intercooler, the improved Forge product has a surface area increase of over 
42%
 and an internal volume increase of over 
100% 
as well as Gains of more than 
10bhp 
and 10 lbs/ft. These gains can be even higher depending on your vehicles state of tune and complementing performance products like the 
turbo inlet adaptor
 and the 
inlet duct
. As the hot and cold side, inlet and outlet, have been increased to 60mm, we have included within the intercooler kit all the necessary silicone hoses and hardware to complete the installation and connect to the OEM parts.

The Forge Motorsport intercooler is a perfect performance enhancing product that fits directly to the OEM mounting points, making for an easy install, in a relatively short period of time. No cutting of any components are needed, making the installation reversible if the vehicle needs to be returned to stock at any time in the future. The core and end tanks are finished in our black textured anti corrosion coating that also aids with its thermal properties and keeps the product looking that bit more stealthy or OEM+.
The Forge Motorsport lifetime warranty on all hardware products shows the trust we have in the quality of our products while they are being enjoyed on your pride and joy.
Why do we test different cores?

Here at Forge Motorsport, when developing an intercooler, we will test several different cores for each application. For example, a bar and plate style core, a tube and fin style core along with different fin pitches and heights e.g. 22 fins per inch or 17 fins per inch, as well as changing the internal fin pitches/shapes and density within the tube enabling to fine tune the amount of pressure drop the intercooler produces.
Pressure drop is not always a bad thing, as our testing and research has proven on various projects. This is because the pressurized air velocity is being stalled by the pressure drop within the cooler thus allowing more time to cool the air within the cooler itself, as air passes through the non-pressurized face of the core that is open to the atmosphere. Too much pressure drop can of course have a problem on the higher performance engines as the intercooler reaches its maximum efficiency the turbo has to work a lot harder to force the air through the core. This in turn creates higher inlet air temps (IAT's) due to the turbo creating more heat as it is over stressed and worked harder.
Having no pressure drop can also prove to be inefficient as the cooler will not lower the charge temperature again resulting in higher inlet air temperatures.
Dyno Results

Testing was completed on Litchfield's Maha dyno, manufactured by the same people who currently supply BMW M sport and Mercedes Benz for all their engine calibration and dyno testing.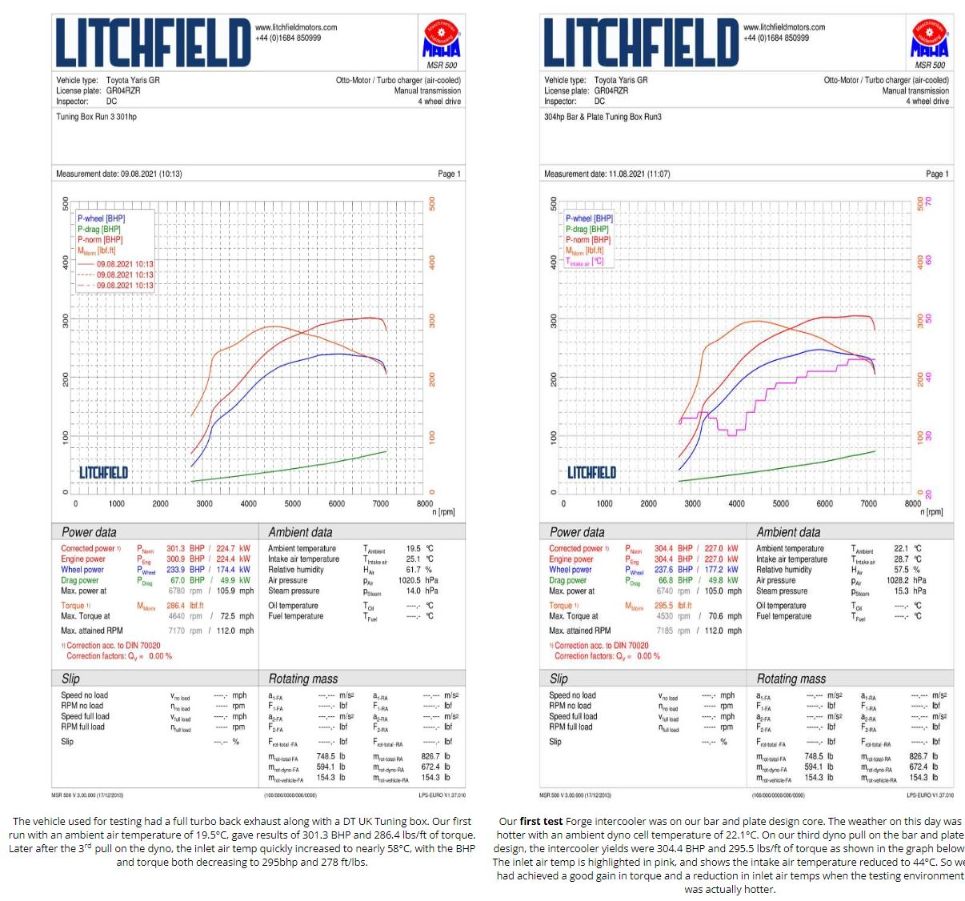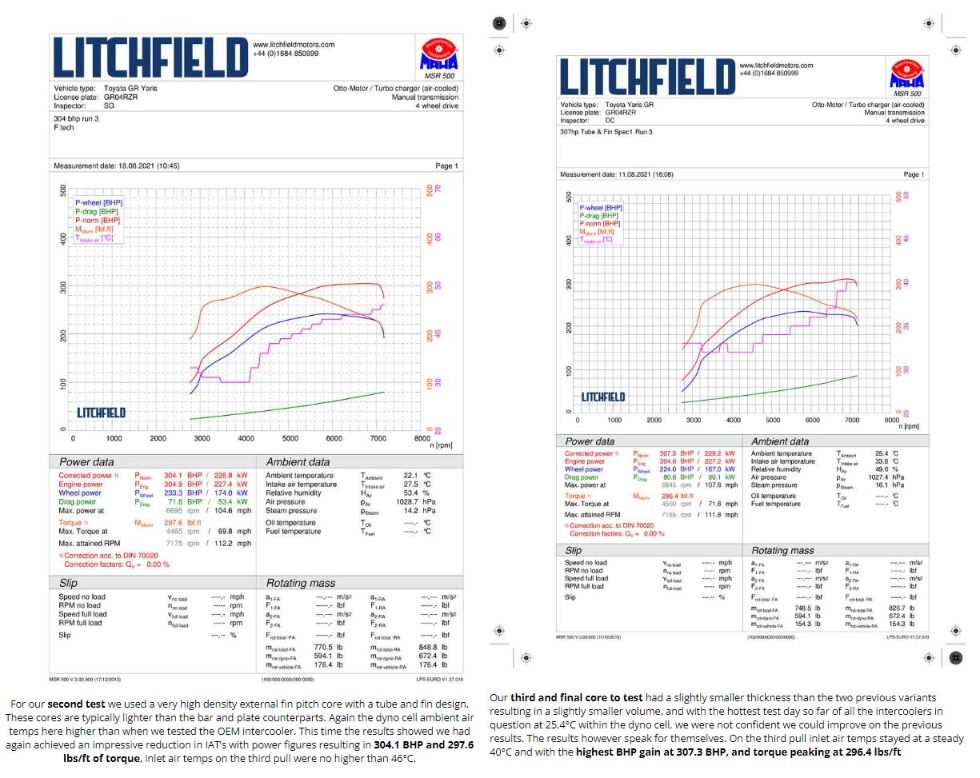 We had found our winning formula. At this point though we did not simply stop; we repeated our testing to ensure our results were true and checked all our test vehicles sensor data to ensure there were no negative effects.

Gains of 10bhp and 10lbft
Temperature drops of up to 20°C
Reduced turbo lag, increased response
Greater overall surface area for greater heat dissipation
Utilising a race specification tube and fin construction air core
High flow cast end tanks ensuring optimum air transition for cooling efficiency
Dyno proven horsepower and torque gains
A smoother power curve
Volumetric increase of more than 100%, without additional lag
Frontal area increase of over 40%
Includes necessary hardware and instructions for installation
Lifetime warranty
Manufacturer Specified Fitment
Vehicle Fitment
This vehicle fitment list has been provided as a guideline only. Please check the product description for exact vehicle compatibility.
| Make | Model | Generation |
| --- | --- | --- |
| Make | Model | Generation |
| Toyota | Yaris | XP210 |