Forge Motorsport Upper Airbox Induction Kit – Toyota Yaris / Corolla GR
Forge Motorsport Upper Airbox Induction Kit – Toyota Yaris / Corolla GR
The increased diameter from 80mm of the stock inlet pipe to 89mm produces a volumetric increase of around 20% in just the connecting pipe from turbo inlet adapter to the airbox alone.
Forge Motorsport Upper Airbox Induction Kit – Toyota Yaris / Corolla GR
The Toyota Yaris GR has proven itself to be a fantastically capable vehicle since its release, and the development team at Forge Motorsport have been able to work their magic once again to find further improvements.
After continued testing and discussions with owners of Yaris GR's, the stock airbox has proven itself to function well, especially with the stock map. However, the weakness in the airbox is most definitely the quantity and directional flow of the air. As such, we explored several different avenues, before settling on a replacement upper airbox that mounts to the stock lower. When used in collaboration with the Forge Motorsport Inlet Duct (FMINLD1) performance car part, it ensures a consistent cold feed of air into the lower airbox that can then be delivered into a refined upper airbox. The increased diameter from 80mm of the stock inlet pipe to 89mm produces a volumetric increase of around 20% in just the connecting pipe from turbo inlet adapter to the airbox alone. After running data and tests it was decided that we would not use a panel filter, but instead a cone filter as shown in the CAD below. 3D scan data was utilised to ensure that the cone filter would fit in the optimum position inside the lower airbox, not just for ease of fitment but also to allow for optimum flow into the inlet tract.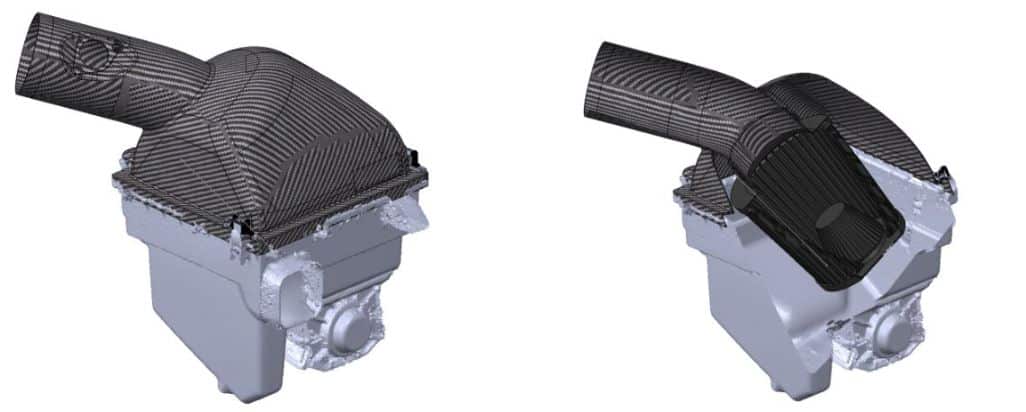 Due to the sensitivity of the MAF and stock map of the Yaris, a lot of testing was required to ensure that performance was gained without inflicting the driveability of the car – especially as we were changing from a panel filter to a cone filter and an increased diameter. To test this in real world conditions, we created a modular design that was 3D printed and allowed for different variations of MAF position, diameter, and airflow to be tested on road and the dyno. After finding the optimum design, we then reprinted the full prototype and left this on the vehicle. This allowed us to continue our testing to prove out the performance repeatability in real world driving conditions. We also noted at this stage that there is a small gain in induction noise.

This product works extremely well when collaborated with existing Forge Motorsport performance products for the Toyota Yaris GR. With the release of our turbo inlet adapter (FMTIA8) we were able to increase the volumetric capacity over the stock inlet by 53%. Once coupled to this intake we have been able to ensure a smooth airflow from filter to turbo with minimal restrictions by continuing the 89mm diameter for a large proportion of the inlet tract. It is designed in a similar way to a conventional velocity stack by routing the air more directly into your turbo charger and allows more air to be compressed due to its larger capacity. This can have a positive effect on acceleration after long deceleration or in between gear changes due to more air being kept within the intake system.FMINDK43 is part of our acclaimed Hi Flow range and will ensure that your vehicle is getting critical cold air.
Not only are Forge Motorsport performance parts a better option for an improved drive, but carbon fibre car parts really help give an engine bay some character. The high-quality carbon fibre is prepreg 2×2 twill formed in an autoclave from billet tooling and finished with an anti UV gloss gel coat.


Dyno Results
We found that FMINDK43 with the stock turbo inlet produced peak gains on average of 13bhp at the wheels and peak torque gains of 8nm.
The dyno graph below shows a comparison between the stock airbox, the 80mm prototype and 89mm prototype. We ran a total of 8 different prototype variations of MAF height, MAF distance from entry and inlet diameter to ensure that the best solution was used. You can see how sticking to the stock size diameter and MAF position with the cone filter produced a slight improvement to the wheel horsepower, however when increased to 89mm we were able to produce some fantastic gains from such an easy to install bolt on modification.
Another important observation to note is where the power is delivered. As you can clearly see on the dyno graph that the engine produces a much higher power earlier into the rev range. From 2000rpm to 3600rpm the lower flap in the airbox is opened via a solenoid, and the dyno graph shows that at the same rpm there is an increase of around 15- 20nm of torque with FMINDK43 installed compared to stock. This figure is noticeable when driving, and you can feel that the vehicle picks up much better than in stock form.
It's worth remembering that this is with a stock ECU and no tune, so we would expect to see mapped cars returning even greater yields of power as they will be able to utilise the increase of airflow.

The performance part kit comes complete with everything you need for installation, which can be carried out in around half an hour, including a set of full colour instructions.
Our Toyota Yaris GR performance parts will help improve both the look and drive of your car.
*Please note – the filter is excluded from the Forge lifetime warranty 
Gains of 13bhp
Peak torque gains of 8nm
High quality carbon fibre
Pleated performance air filter
No engine management check lights (EML)
Increased air flow
Lifetime warranty*
*Please note – the filter is excluded from the Forge lifetime warranty 
Manufacturer Specified Fitment
Toyota Yaris GR
Toyota Corolla GR
Vehicle Fitment
This vehicle fitment list has been provided as a guideline only. Please check the product description for exact vehicle compatibility.
| Make | Model | Generation |
| --- | --- | --- |
| Make | Model | Generation |
| Toyota | Corolla | E210 |
| Toyota | Yaris | XP210 |