*Please note – This will not fit Audi S3 facelift 2017 onwards*
*Some modification to Audi S3 and TTS may be necessary*
This is our new intercooler for the Mk7 Golf, MK7R, Audi TT MK3 2.0 TSI and S3 (8V chassis) fitted with the latest EA888 2.0 TSI engine. Volkswagen Audi group have changed just about everything from the Mk6 to the Mk7 chassis so this core has had to be designed from scratch in order to fit in with the redesigned radiator and condenser.
The core fits in the stock location. Cooling is radically improved. Our test Golf Mk7 GTI achieved 16bhp more without any other modifications whilst also demonstrating a consistant 25-30 deg C (77-88 deg F) temperature drop over stock on the dyno, with all runs performed on the same day with only a 2 deg C variation in ambient temperature over the runs (in fact it was 2 deg C hotter when we tested the Forge core). The core measure 650x420x50.
You can also see the temperature drop comparison of the stock and Forge cores in the graph
The stock core typically increased in temperature by 5 deg C on each subsequent run, with heat soak becoming a real issue after only three runs. The stock ECU was pulling timing and boost after only one run – typically anything over 40 deg C inlet temperature will cause the ECU to change ignition timing to suit – and the stock core peaked at 60 Deg C on its first run, where the Forge core was able to get temperatures back under control after each run so that by the end of 4 back to back runs the core temperature had only risen by 4 degrees C
All of this was achieved on a stock car (it should be noted that although Volkswagen claim 220bhp for this new engine we have seen examples range from 230 to 240bhp completely stock, on the same rolling road). At the time of writing there are no software solutions (other than tuning boxes) available to really test the car or the intercooler, but we are confident that the core will continue to deliver a much lower intake charge temperature than stock across all states of tune, as its based on our award winning Mk5/Mk6 intercooler which has been fitted with great success on everything from road and track cars, to full blown race and drag cars.
The core comes in a satin black light powder coated finish, and includes all mounting hardware necessary for installation.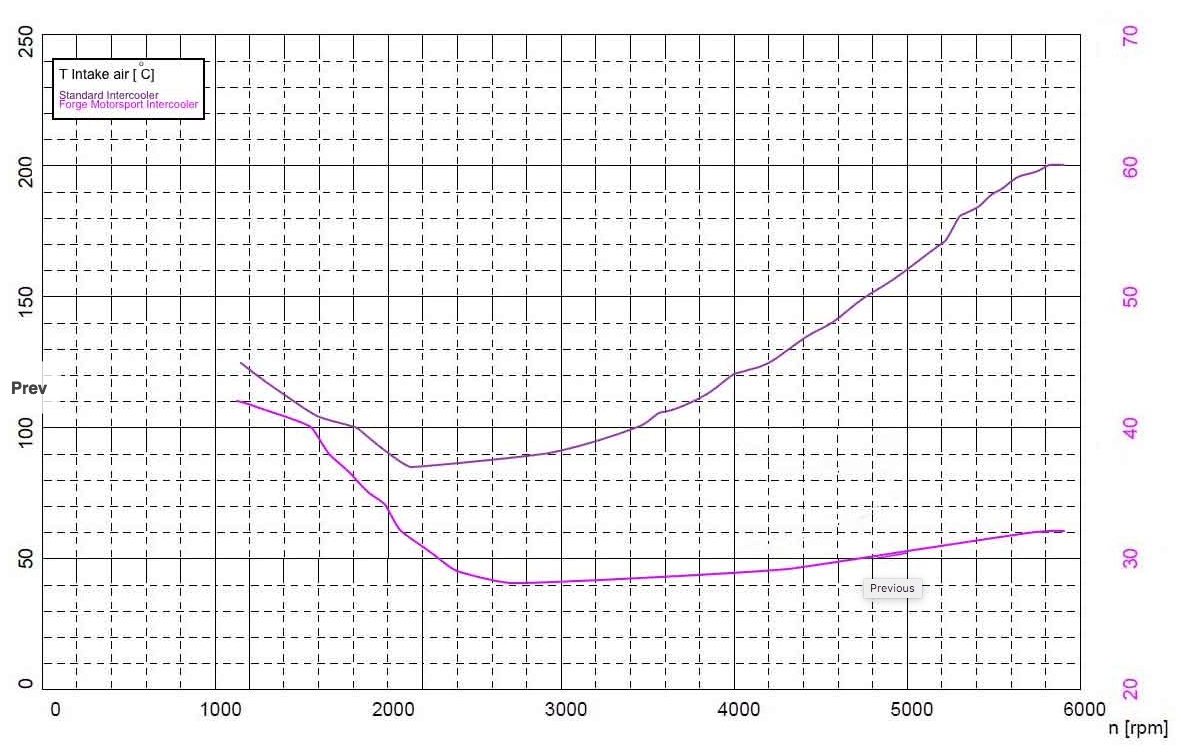 Reduced turbo lag, increased response.
Designed for VW Golf GTI [Mk VII] for perfect fitment.
Greater overall surface area for greater heat dissipation.
Utilising a race specification Forge Alsus *designed Bar and plate construction air core.
High flow cast end tanks ensuring optimum air transition for cooling efficiency.
Dyno proven horsepower and torque gains.
Provides smoother power curve.
Dimensions: 650x420x50mm
Includes necessary hardware and instructions for installation.
Vehicle Fitment
This vehicle fitment list has been provided as a guideline only. Please check the product description for exact vehicle compatibility.
| Make | Model | Generation |
| --- | --- | --- |
| Make | Model | Generation |
| Audi | S3 | 8V |
| Volkswagen | Golf | MK7 |
| Volkswagen | Golf | MK7 |
| Volkswagen | Golf | MK7 |