SACHS Performance Sintered Metal Button Clutch Disc "Racing" – 999505
SKU
881864.999505
Category
Volkswagen / Audi / Skoda
Tags
clutch, ea888, golf, kit, manual, mk7, performance, polo, r, sach, Sport, volkswagen, vw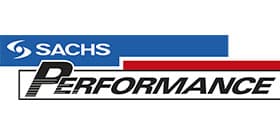 Innovative Engineering.
Higher transmittable torque
Higher burst number of revolutions
Less abrasion, much longer life span
Technical Details.
SACHS Performance Clutch kit at a preferential price, containing the reinforced clutch cover and the performance clutch disc with special organic friction material. – Simple exchange against the old clutch, this kit will fit to the original flywheel and releaser.
The SACHS Performance clutch kit delivers more transmittable torque and more stability, longer life and superior thermal resistance.
It also allows for faster and sportier gearshifts. – That makes it extremely useful for street tuning, endurance races, hill climbing (group N) and for vehicles that are often driven with their maximum gross vehicle weight.
The start performance is similar to your old original clutch kit (no "on-off" clutch), so this solution is also perfect for a daily driven car.
Quality – Made in Germany.
The clutch systems from ZF SACHS Race Engineering have brought motor sports teams worldwide to the forefront, from mass sports to Formula 1.
The knowledge gained from these race series has been flowing into the development of High Performance products for years.
Typical applications include:
Chip-Tuning, turbocharger and supercharger modifications
Vehicles with maximum gross vehicle weight and according to high load (towing trailers, campers)
1/4 mile-race
Race circuit (endurance race, clubsport, autocross)
Rally (e.g. group N)
Slalom, Drift Racing
Diameter: 240mm
Number of Teeth: 23
Hub Profile: 21.8×24.2-23N
Transmittable torque: 550+Nm
Manufacturer Compatible Part No. : VOLKSWAGEN 06K 141 015 C
SACHS SKUs: 001422.999502G, 001422.999502B
Manufacturer Specified Fitment
VW MK7 Golf GTI (Engine Codes: CNTA, CXCA, CXCB, CHHB, CXDA, CHHA)
VW 6R, 6C Polo 1.8 GTI (CAJA)
Skoda Octavia MK3 RS
Vehicle Fitment
This vehicle fitment list has been provided as a guideline only. Please check the product description for exact vehicle compatibility.
| Make | Model | Generation |
| --- | --- | --- |
| Make | Model | Generation |
| Skoda | Octavia | MK3 |
| Volkswagen | Golf | MK7 |
| Volkswagen | Polo | 6C |
| Volkswagen | Polo | 6R |