Whiteline Adjustable Front Sway Bar Link – KLC140-255
This Whiteline 26mm 3 point adjustable sway bar = more grip = better handling = outright performance – it's the best dollar for dollar handling improvement you can make to your vehicle. In fact, benefits extend to improvements in handling, safety and tyre wear without affecting ride quality or comfort.
SKU
KLC140-255
Categories
BMW, Ford
Tags
1, 2, 3, 4, aclass, adjustable, bar, benz, BMW, class, clio, end, f20, f21, f22, F23, f30, f31, f32, F33, f34, F36, f8, f80, F82, f83, f87, f8x, Fiesta, Ford, KLC140-255, laser, link, M3, M4, mercedesbenz, merceses, msport, performance, renault, series, sway, w169, w245, whiteline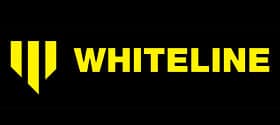 Whiteline Adjustable Front Sway Bar Link – KLC140-255
Not many enthusiasts are aware that OE and more importantly aftermarket sway bar effectiveness can be hindered by worn or inadequate mounts, drop links and lateral stoppers. Whiteline adjustable sway bar links are engineered to be up to the task with top spec, light weight componentry combined with a window of adjustability, eliminating sway bar preload on installation but most importantly ensuring the maximum output of the sway bar for improved grip and better handling.
Features
By eliminating flex and compliance associated with original equipment, these high strength links are engineered to increase sway bar effectiveness and improve overall performance, increased rigidity and responsiveness which can be felt especially during lane changes and initial turn.
Manufactured from high quality alloy and include heavy duty steel ball joint ends ensuring maximum strength and durability.
Eliminate sway bar preload during installation and allow for on-car length adjustment of up to 25mm centre to centre.
Heavy duty ball joints adjust and rotate to any angular combination for ease of fitment and optimum performance.
Featuring premium anodized alloy materials, Whiteline alloy products are anodized providing a long-lasting protective barrier to corrosion and wear but they look great too.
Install guide included providing detailed instructions on how to install your new Whiteline purchase.
This Whiteline kit is covered by a 3 Year / 60,000kms warranty.
Manufacturer Specified Fitment
BMW 1 SERIES F20, F21
(2011-ON)
BMW 2 SERIES F22, F23
(2013-ON)
BMW 3 SERIES F30, F31, F34
(2012-2019)
BMW 4 SERIES F32, F33, F36
(2013-ON)
BMW M SERIES F20, F21
(2012-2019)
BMW M2 F87
(2013-ON)
BMW M3 F80
(2014-2019)
BMW M4 F82, F83
(2014-ON)
EUNOS 30X EC
(1992-1997)
EUNOS PRESSO EC
(1992-1997)
FORD ECOSPORT BK
(2013-ON)
FORD ESCAPE BA, ZA, ZB, ZC, ZD
(2001-2012)
FORD FIESTA WS, WT
(2009-2013)
FORD FIESTA WZ EXCL ST
(2013-2018)
FORD FIESTA WZ ST
(2013-2019)
FORD LASER KJ
(1994-1998)
KIA CLARUS K9A
(1995-2001)
KIA CREDOS K9A
(1998-2001)
MAZDA 323 BA, BH
(1994-1998)
MAZDA CX-3 DK
(2015-ON)
MAZDA DEMIO DE
(2007-2014)
MAZDA FAMILIA BA, BH
(1994-1998)
MAZDA MAZDA2 DE
(2007-2014)
MAZDA MX3 EC
(1992-1997)
MAZDA TRIBUTE YU, CU, ZD
(2001-2012)
MERCEDES-BENZ A-CLASS W169
(2004-2012)
MERCEDES-BENZ B-CLASS W245
(2005-2011)
MERCURY MARINER
(2005-2010)
NISSAN JUKE F15
(2010-2019)
NISSAN MICRA K12
(2003-2010)
NISSAN NOTE E11
(2005-2012)
NISSAN TIIDA C11
(2006-2012)
NISSAN VERSA C11
(2004-2012)
RENAULT CAPTUR X87
(2013-2019)
RENAULT CLIO III X85 INCL SPORT
(2005-2013)
RENAULT CLIO IV X98
(2013-2019)
RENAULT MODUS 1ST GEN
(2004-2012)
Vehicle Fitment
This vehicle fitment list has been provided as a guideline only. Please check the product description for exact vehicle compatibility.
| Make | Model | Generation |
| --- | --- | --- |
| Make | Model | Generation |
| BMW | 1 Series | F2X |
| BMW | 2 Series | F2X |
| BMW | 2 Series | F87 |
| BMW | 3 Series | F3X |
| BMW | 3 Series | F80 |
| BMW | 4 Series | F3X |
| BMW | 4 Series | F82 |