Burger Motorsports JB4 Performance Tune – VW / Audi / Skoda / Porsche 'Group 1 – 6'
JB4 Plug-in performance tuner for VW / Audi / Skoda / Porsche cars with the EA888 engine (1.8L or 2.0L).
AutoInstruct MK7 Golf R – Winner – Best AWD
The AutoInstruct MK7 Golf R won the 'Best AWD' category at the GTI & R Melbourne Dyno Day, held at Underground Performance on the 4th June 2017 in Melbourne, Australia. We peaked at 205.5 awkw! Click here to view the full leaderboard of results.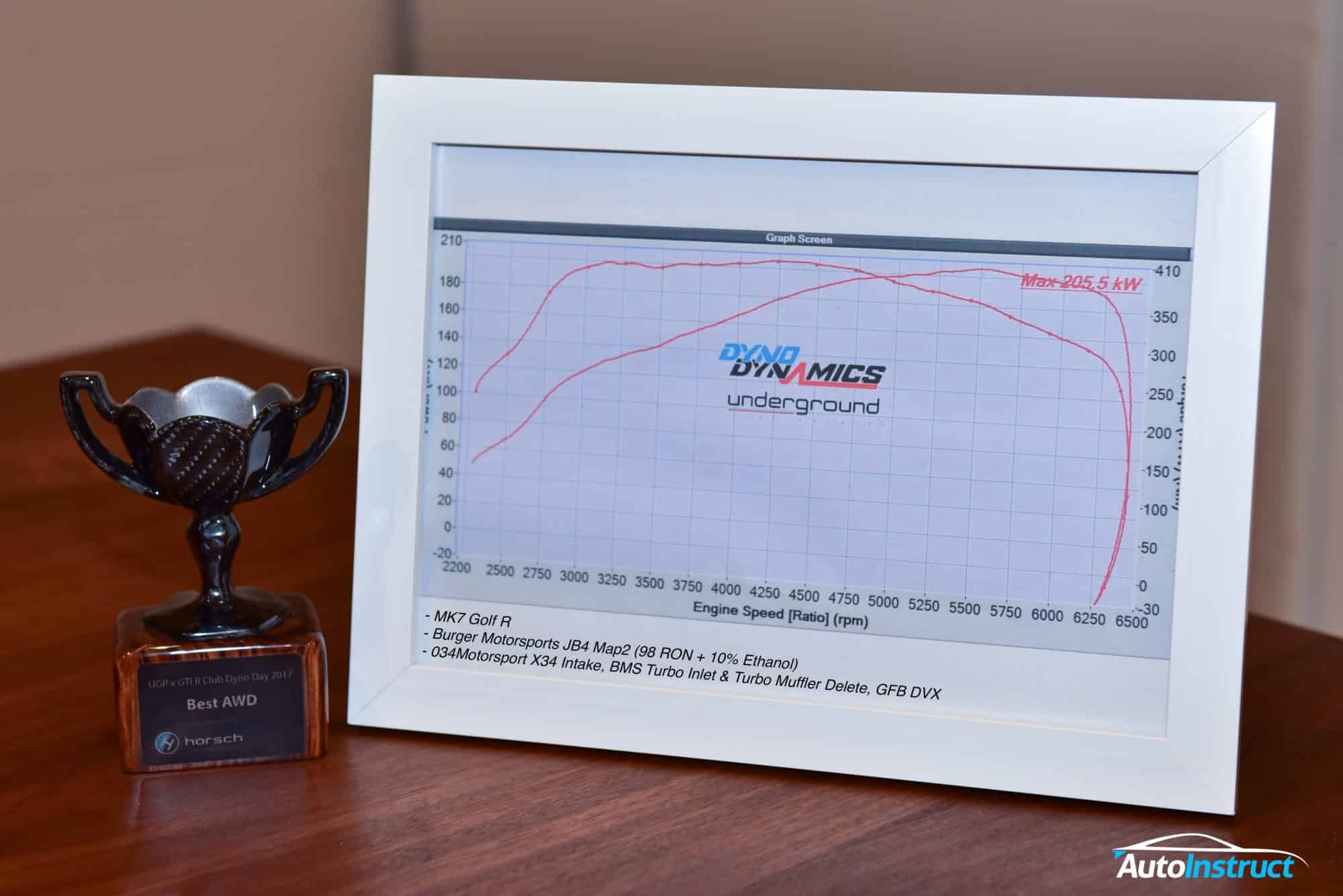 Latest Dyno Results – Full Bolt Ons
April 2018 – The AutoInstruct Golf R now features a CTS Intercooler and REMUS Turboback exhaust in addition to the above modifications listed above.
Our latest dyno results come in at an astonishing 234 kw of power and 460 nm of torque at all four wheels!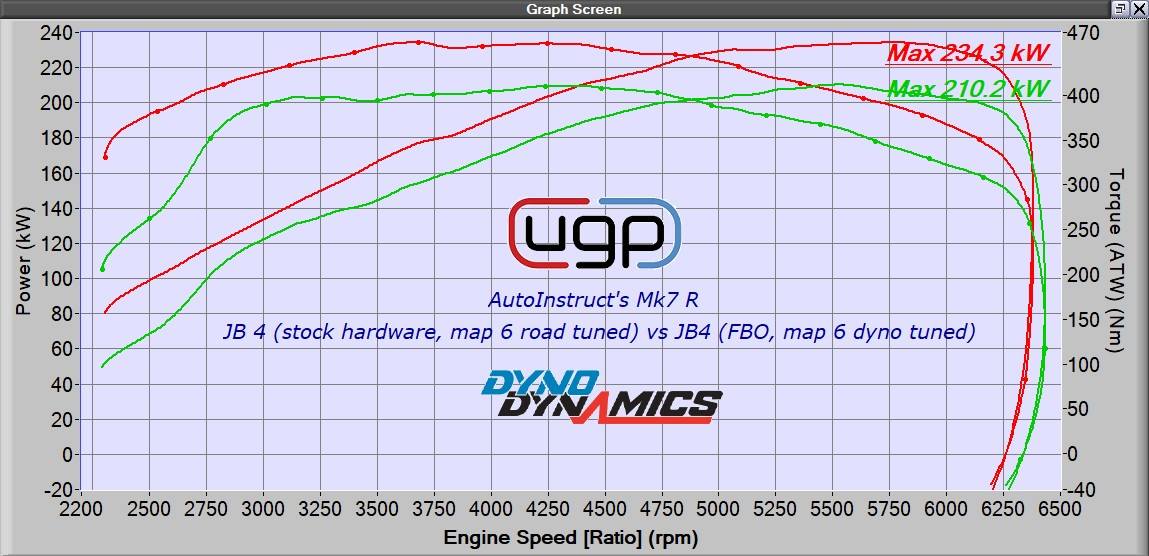 The JB4 features CANbus connectivity for more advanced tuning, direct AFR control, advanced safety systems for boost, air/fuel ratio, fuel trims, engine knock, boost mapping by gear for improved traction, integrated water/meth control, and much more.
The unit can be used with our JB4 Bluetooth Connect kit providing for full in-car engine parameter display, map switching, and adjustment The JB4 can also be stacked over a flash tuning allowing for fine-tuning as well as meth control with safety measures in place and full logging.
Wirelessly connect the JB4 to your Bluetooth 4.0 compatible iOS, and Android device via the JB4 Mobile connect kit or to your Windows laptop with the BMS data cable. Both options allow you to record and analyze vehicle and tuning data, change JB4 performance maps, and update JB4 firmware as we release free newer versions with updates, more powerful maps, and new features under development. A separate JB4 Mobile app purchase is also required.
Resources: General user discussion forum with a detailed description of the JB4: http://forums.vwvortex.com/showthread.php?8367026-Burger-Motorsport-JB4-Information-thread-for-R-and-S3
https://www.jb4tech.com/forum/model-specific-engine-tuning-modification-discussion/vw-audi-group/19262-
https://www.jb4tech.com/forum/model-specific-engine-tuning-modification-discussion/vw-audi-group/6628-
JB4 Features & Benefits
• Improves 0-60 times and 1/4 mile times
• Preloaded with custom tuning software and up to 8 maps for various fuel and modification levels
• The JB4 offers a lot more performance, functionality, and safety than your average performance chip
• Quick Plug & Play Installation
• CANbus OBDII integration offering unrivaled tuning features and performance
• Improved performance over non-integrated chip tunes
• Runs as smoothly as stock. This is how your vehicle should have come from the factory
• Compatible with all driving modes
• Fuel economy unchanged during normal driving
• Compatible with JB4 Mobile for smartphone logging, tuning changes, and adjustment
• 91 octane fuel or better required for performance gains
• Ethanol (E85) compatible tuning maps
• Able to read/delete fault codes
• Not VIN locked and can be removed without a trace and resold down the road
• Made in the USA
• Free USA Shipping
• 5-year warranty

Manufacturer Specified Fitment
This product covers Groups 1 –  6 from Burger Motorsports
2.0L Applications:
• Audi S3 8V 2.0T
• Audi A4 Quattro B8.5
(Selected Models – Click Here)
• Audi A3 2.0T
• Audi S1
• Audi TTS 8S
• Audi TT 8S
• Audi B9 A4 2.0TFSI 252hp
• Audi B9 A4 2.0T Allroad
• Audi A5 2.0T TFSI 252hp
• Audi A6 2.0T TFSI 252hp
• Audi Q7 2.0T TFSI 252hp
• VW MK7 Golf R
• VW MK7 Golf GTI
• VW MK7 Golf GTI PP / 40th Anniversary / Clubsport
• VW MK7.5 Golf GTI
• VW MK7.5 Golf R
• VW MK2 Tiguan 220hp/162kW
• B8 Passat 2.0T 280hp
• Skoda Superb 280
• Skoda Superb 2.0T
• Skoda Octavia RS
• Audi B9 A4 2.0TFSI185kw
• Audi B9 A4 2.0T Allroad
• Audi A5 2.0T TFSI 185kw
• Audi A5 2.0T TFSI 169kw (Required to set the Future use D value to 1)
• Audi A6 2.0T TFSI 185kw
• Audi Q7 2.0T TFSI 185kw
• Audi Q5 2.0T 185kw
• Porsche Macan 2.0T 185kw
1.8L Applications:
• VW Polo 6C GTI
• Audi A3 8V 1.8T FSI Non-US
• Skoda Octavia 1.8T FSI
• Audi A1 1.8TFSI
Vehicle Fitment
This vehicle fitment list has been provided as a guideline only. Please check the product description for exact vehicle compatibility.
| Make | Model | Generation |
| --- | --- | --- |
| Make | Model | Generation |
| Audi | A4 | B9 |
| Audi | A5 | B9 |
| Audi | A6 | B9 |
| Audi | A6 | C7.5 |
| Audi | S1 | 8X |
| Audi | S3 | 8V |
| Audi | TT | 8S |
| Audi | TTS | 8S |
| Porsche | Macan | 2.0T (252hp) |
| Skoda | Octavia | MK3 |
| Skoda | Superb | MK3 |
| Skoda | Superb | MK3 |
| Volkswagen | Golf | MK7 |
| Volkswagen | Golf | MK7 |
| Volkswagen | Golf | MK7 |
| Volkswagen | Passat | B8 |
| Volkswagen | Polo | 6C |
| Volkswagen | Tiguan | MK2 |