Burger Motorsports JB4 Performance Tune - VW / Audi / Skoda / Porsche 'Group 1 - 6'
JB4 Plug-in performance tuner for VW / Audi / Skoda / Porsche cars with the EA888 engine (1.8L or 2.0L).
AutoInstruct MK7 Golf R – Winner – Best AWD
The AutoInstruct MK7 Golf R won the 'Best AWD' category at the GTI & R Melbourne Dyno Day, held at Underground Performance on the 4th June 2017 in Melbourne, Australia. We peaked at 205.5 awkw! Click here to view the full leaderboard of results.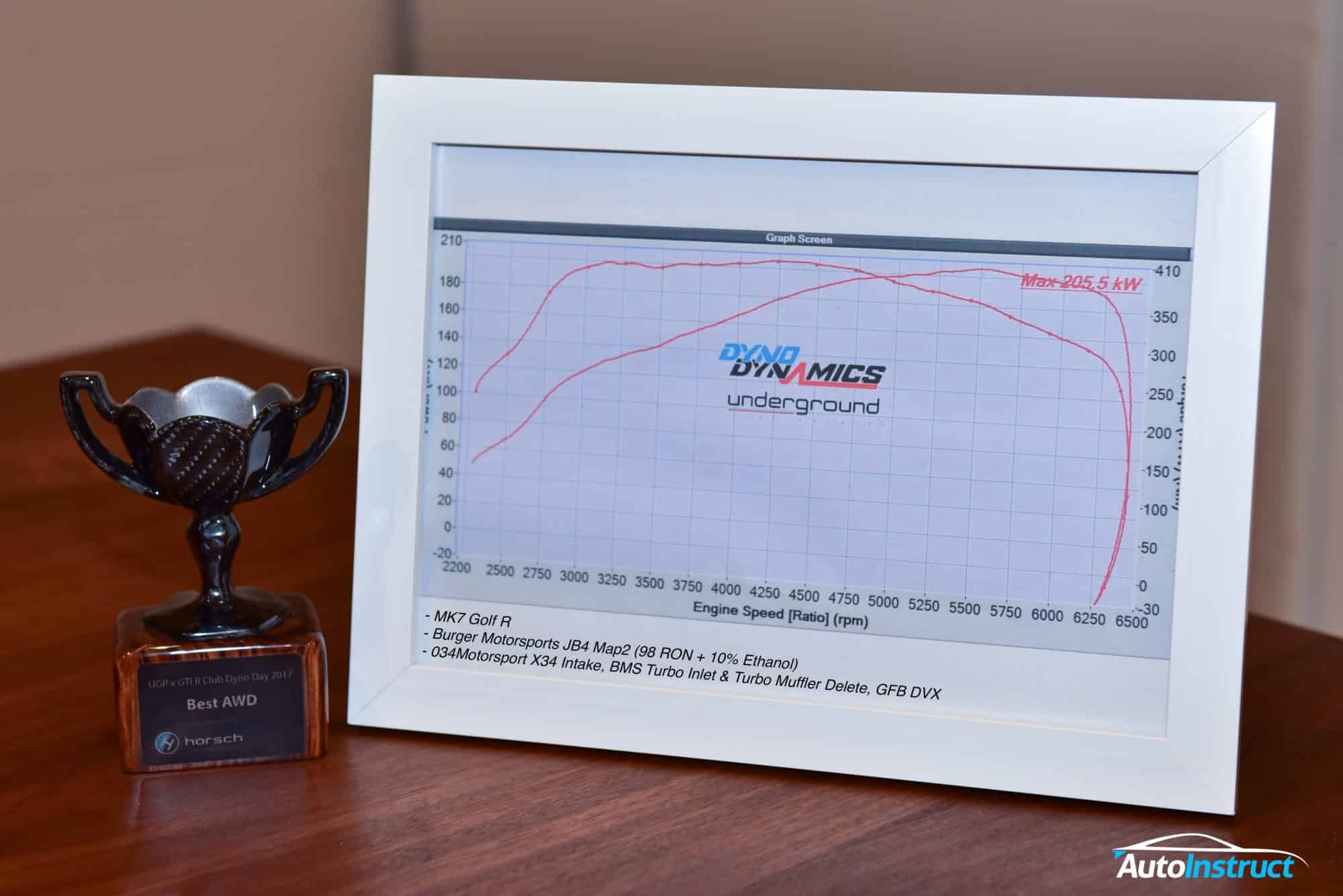 Latest Dyno Results – Full Bolt Ons
April 2018 – The AutoInstruct Golf R now features a CTS Intercooler and REMUS Turboback exhaust in addition to the above modifications listed above.
Our latest dyno results come in at an astonishing 234 kw of power and 460 nm of torque at all four wheels!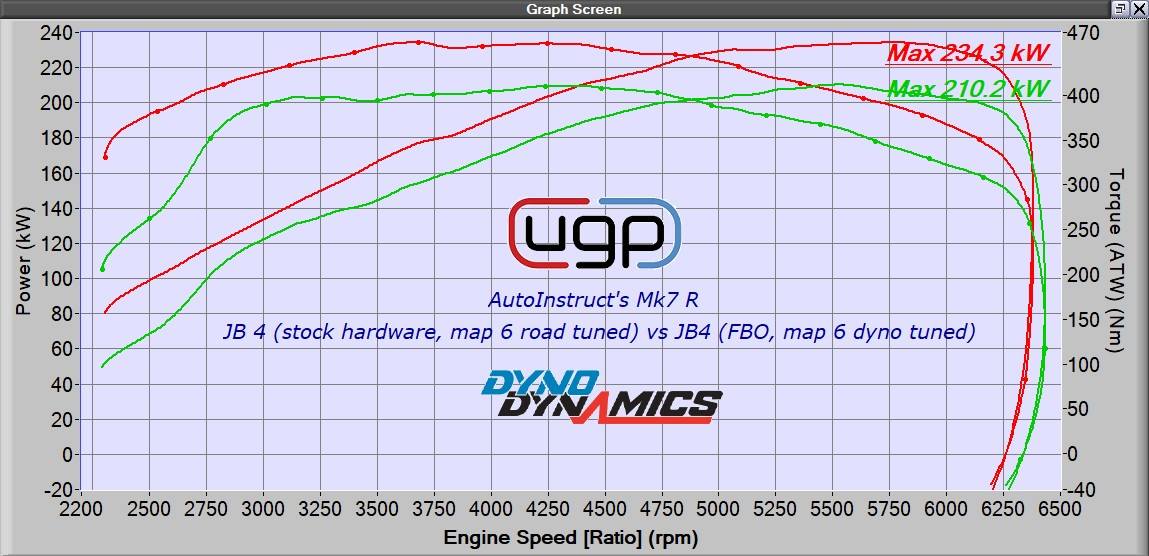 Description
The JB4 is a user adjustable plug and play solution for all MQB based models in the VW Audi Group range. Power Gains: Starting at 45bhp and 60nm with 95 Ron with + 4.50psi boost over stock on the default setting. Up to 100bhp and 90nm with bolt on modifications, higher octane and boost adjustment is possible with the optional BMS Data Cable.
The JB4 features CANbus connectivity for more advanced tuning, direct AFR control, advanced safety systems for boost, air/fuel ratio, fuel trims, and engine knock, boost mapping by gear for improved traction, integrated water/meth control, and much more.
The unit can be used with our JB4 Wireless Connect kit providing for full in car engine parameter display, map switching and adjustment The JB4 can also be stacked over a flash tuning allowing for fine tuning as well as meth control with safety measures in place and full logging.

Manufacturer Specified Fitment
This product covers Groups 1 –  6 from Burger Motorsports
2.0L Applications:
• Audi S3 8V 2.0T
• Audi A4 Quattro B8.5
(Selected Models – Click Here)
• Audi A3 2.0T
• Audi S1
• Audi TTS 8S
• Audi TT 8S
• Audi B9 A4 2.0TFSI 252hp
• Audi B9 A4 2.0T Allroad
• Audi A5 2.0T TFSI 252hp
• Audi A6 2.0T TFSI 252hp
• Audi Q7 2.0T TFSI 252hp
• VW MK7 Golf R
• VW MK7 Golf GTI
• VW MK7 Golf GTI PP / 40th Anniversary / Clubsport
• VW MK7.5 Golf GTI
• VW MK7.5 Golf R
• VW MK2 Tiguan 220hp/162kW
• B8 Passat 2.0T 280hp
• Skoda Superb 280
• Skoda Superb 2.0T
• Skoda Octavia RS
• Audi B9 A4 2.0TFSI185kw
• Audi B9 A4 2.0T Allroad
• Audi A5 2.0T TFSI 185kw
• Audi A5 2.0T TFSI 169kw (Required to set the Future use D value to 1)
• Audi A6 2.0T TFSI 185kw
• Audi Q7 2.0T TFSI 185kw
• Audi Q5 2.0T 185kw
• Porsche Macan 2.0T 185kw
1.8L Applications:
• VW Polo 6C GTI
• Audi A3 8V 1.8T FSI Non-US
• Skoda Octavia 1.8T FSI
• Audi A1 1.8TFSI
Vehicle Fitment
This vehicle fitment list has been provided as a guideline only. Please check the product description for exact vehicle compatibility.
| Make | Model | Generation | Variation |
| --- | --- | --- | --- |
| Make | Model | Generation | Variation |
| Audi | A4 | B9 | 2.0TFSI (252HP) |
| Audi | A5 | B9 | 2.0TFSI (252hp) |
| Audi | A6 | B9 | 2.0T (252hp) |
| Audi | A6 | C7.5 | |
| Audi | S1 | 8X | 2.0T |
| Audi | S3 | 8V | 2.0T |
| Audi | TT | 8S | |
| Audi | TTS | 8S | |
| Porsche | Macan | 2.0T (252hp) | |
| Skoda | Octavia | MK3 | RS 169kW |
| Skoda | Superb | MK3 | 162TSI |
| Skoda | Superb | MK3 | 206TSI |
| Volkswagen | Golf | MK7 | GTI |
| Volkswagen | Golf | MK7 | GTI ED40 / Clubsport |
| Volkswagen | Golf | MK7 | R |
| Volkswagen | Passat | B8 | 2.0T 206kw |
| Volkswagen | Polo | 6C | GTI |
| Volkswagen | Tiguan | MK2 | |